~ My apartment organization and custom closet reveal with NEAT Method and The Container Store ~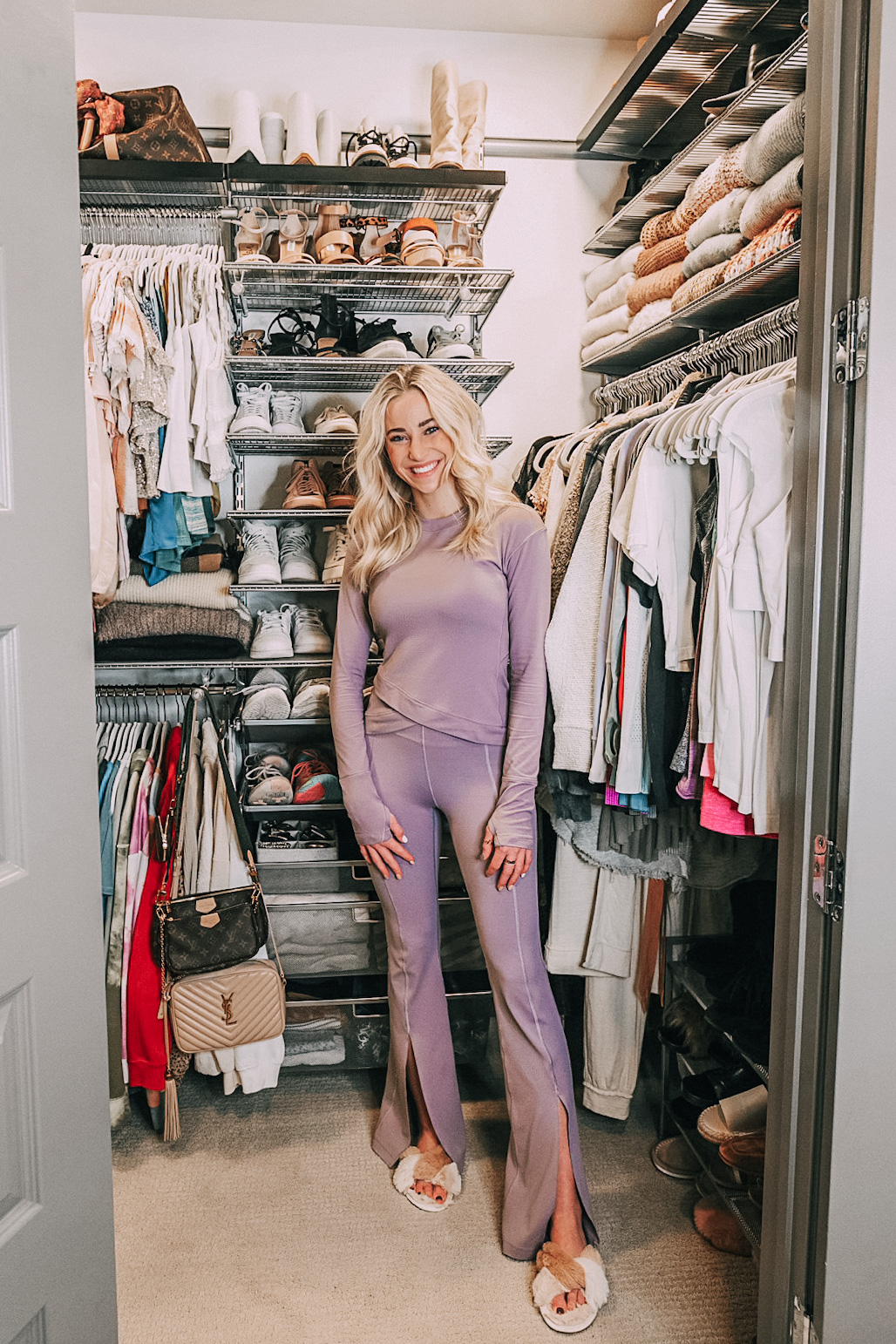 I partnered with the NEAT Method Dallas – Highland Park team to totally transform my closet. If you missed when they came and completely organized my kitchen, it was amazing (see that post here). From the second I moved into my new apartment back in September I knew I was going to need some help fitting everything in the closet in an organized way (or at all?).
Shelley and her team at NEAT Dallas – Highland Park specialize in organizing, unpacking, and downsizing family homes, small spaces, and offices across Dallas & Highland Park. They make the space you have functional for the life you live. See more of their work on their IG page.
THE CLOSET
Originally there was one normal sized closet rod on the main wall, a half-sized closet rod on the side wall, and absolutely no storage solution for shoes. The NEAT Method Dallas – Highland Park team started by taking everything out so we could start with a clean slate. This process forces you to evaluate the things you truly wear all the time versus the things it's time to donate and part ways with. Nothing should go back in that you haven't touched in years.

BEFORE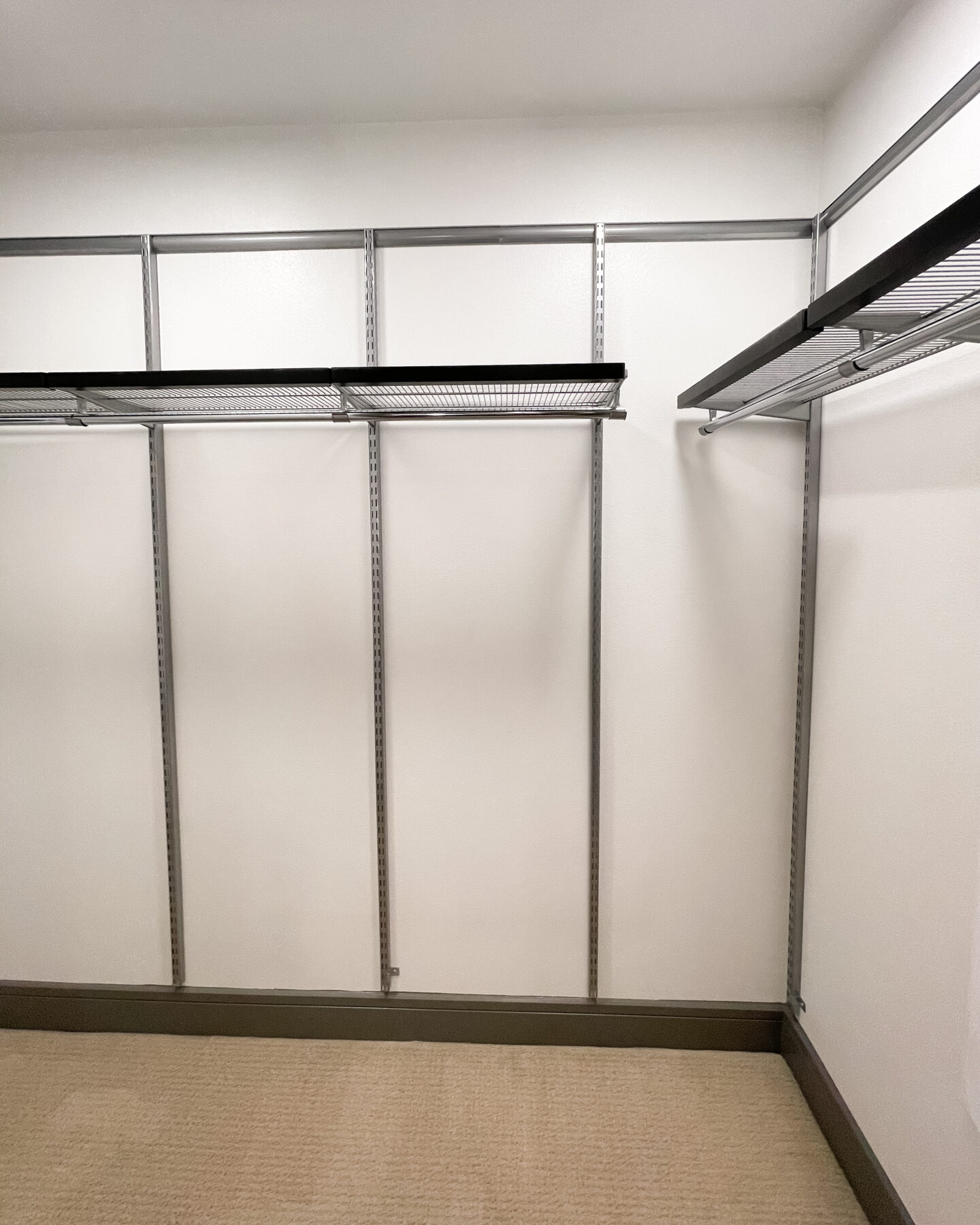 After sorting through all the clothes and shoes they staged everything. This is where they organize the clothes by type (bodysuits, sweaters, t-shirts, jackets, even down to the different washes of denim) before placing them back in the closet. This would also be the time when they replace all the hangers with slim non-slip hangers, but I already had them – they're a total game changer and free up so much space. Next came the Elfa product install. The closet solution system is Elfa from The Container Store, custom designed by NEAT Method. On the main wall, they moved up the already existing Elfa closet rod, added six Elfa shelves for my shoes, two gliding shoe shelves for sneakers, three hanging drawers for misc. items (belts/hats, lounge sweatshirts, denim shorts), and an additional 50" closet rod for denim, pants, and matching sets. They also installed a shelf above each rod for additional storage space. On the smaller side wall they raised up the already existing closet rod and added two Elfa shelves. I have a translucent Elfa shelf liner on every added shelf – they keep small objects from falling through the wires but still allow light to come in and are super easy to clean. For overflow shoe storage, I got 3-tier shoe utility rack for my closet and three under bed shoe storage organizers from Amazon. I still can't get over the before & after??. Shelley and her team totally knocked it out of the park!!
AFTER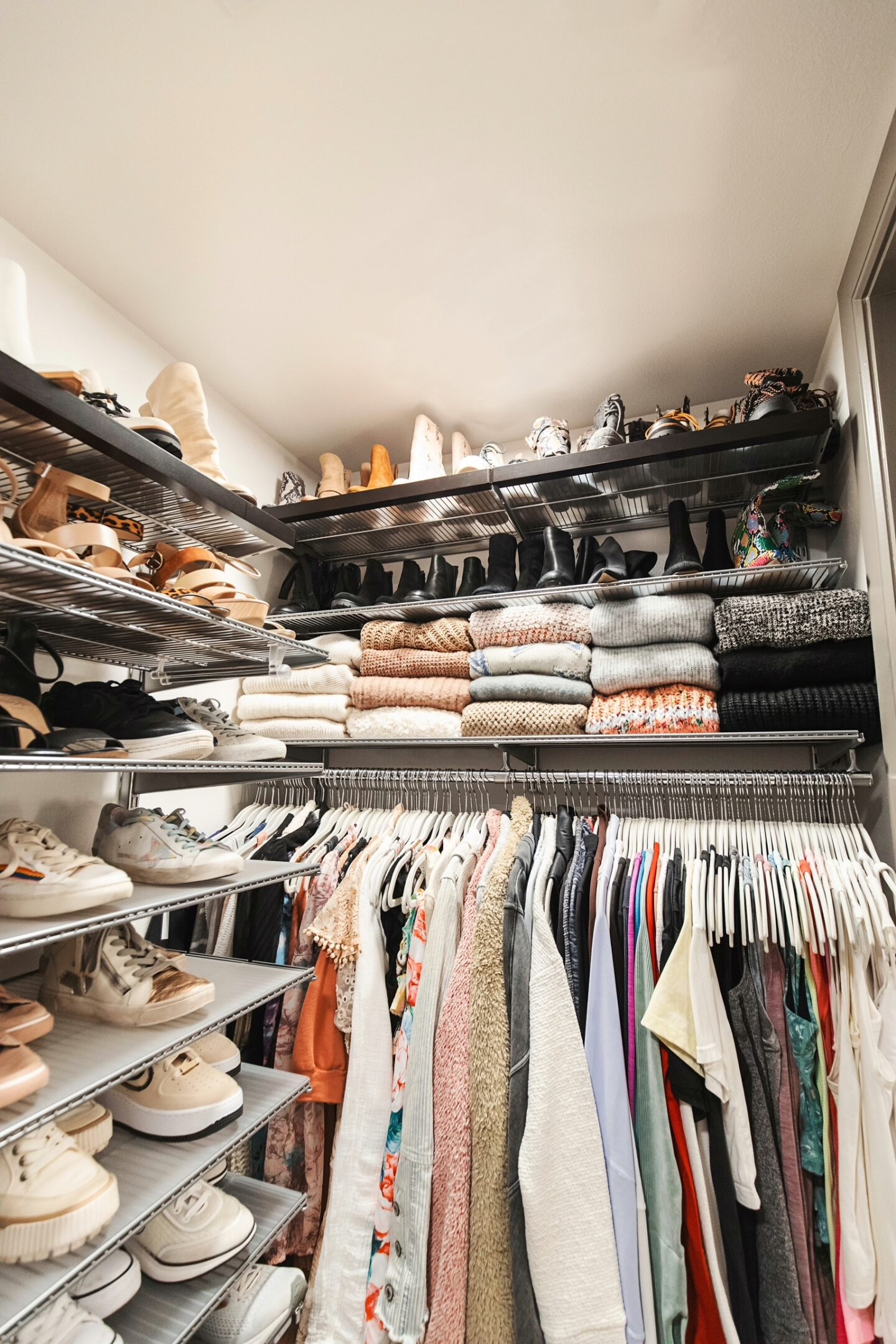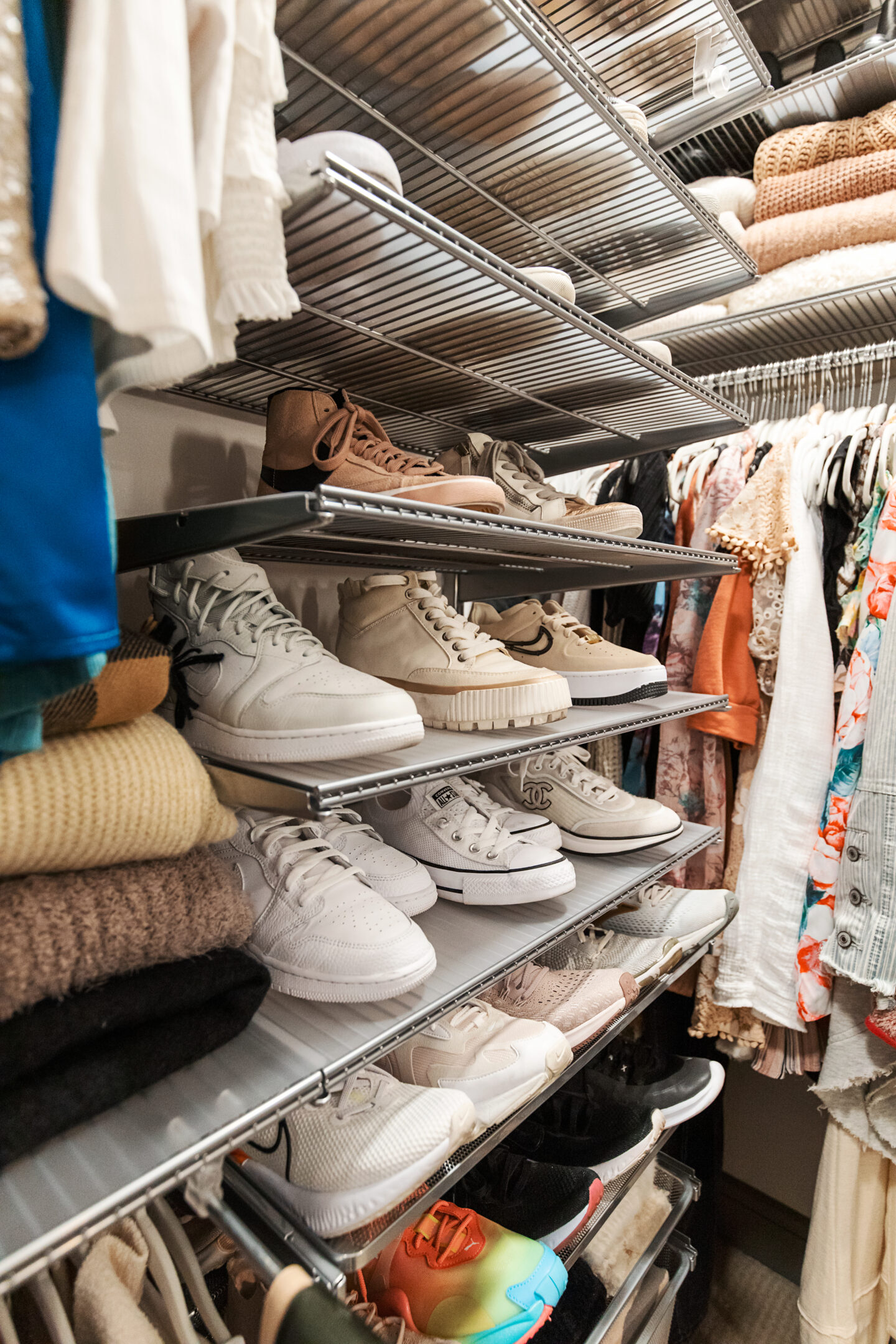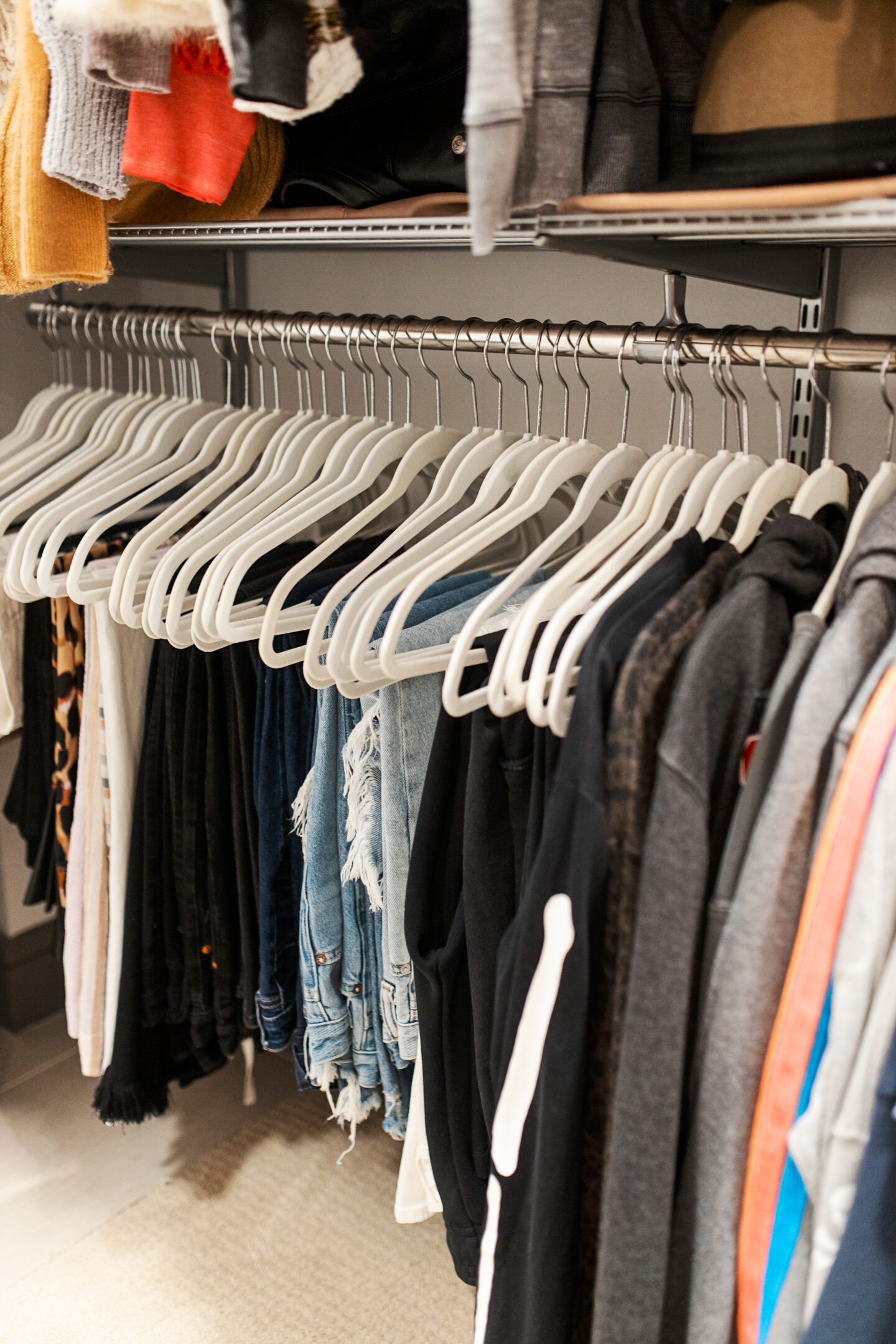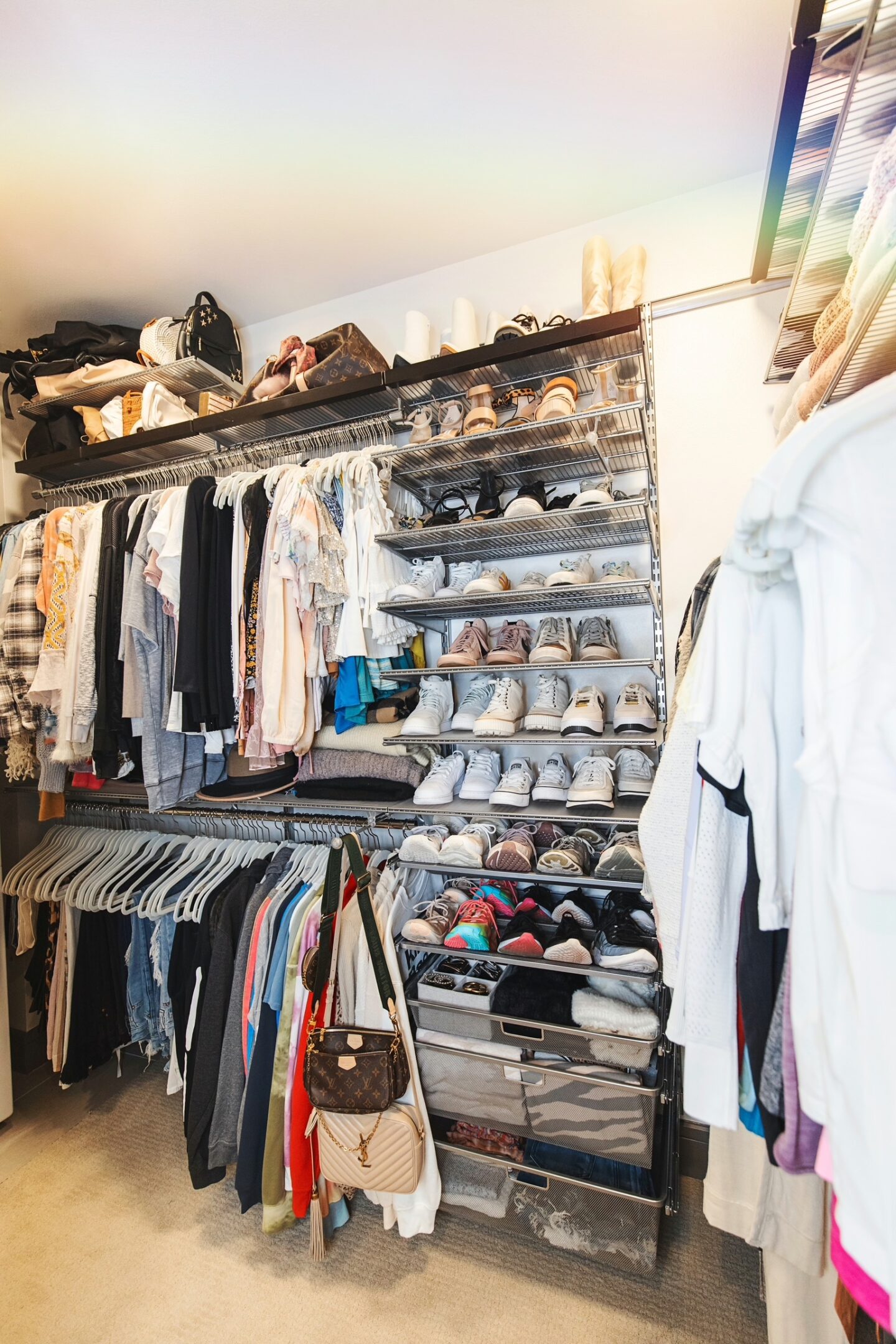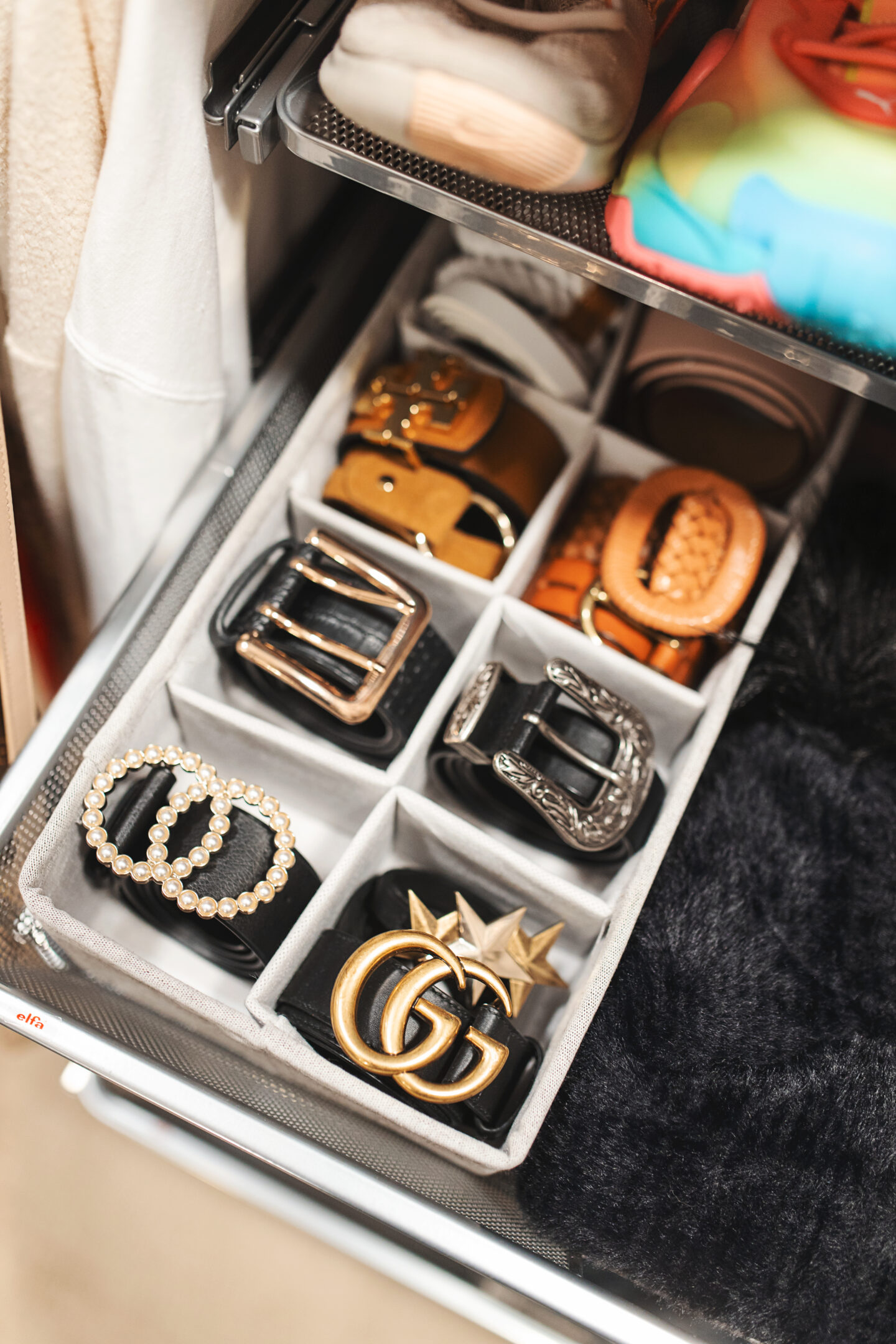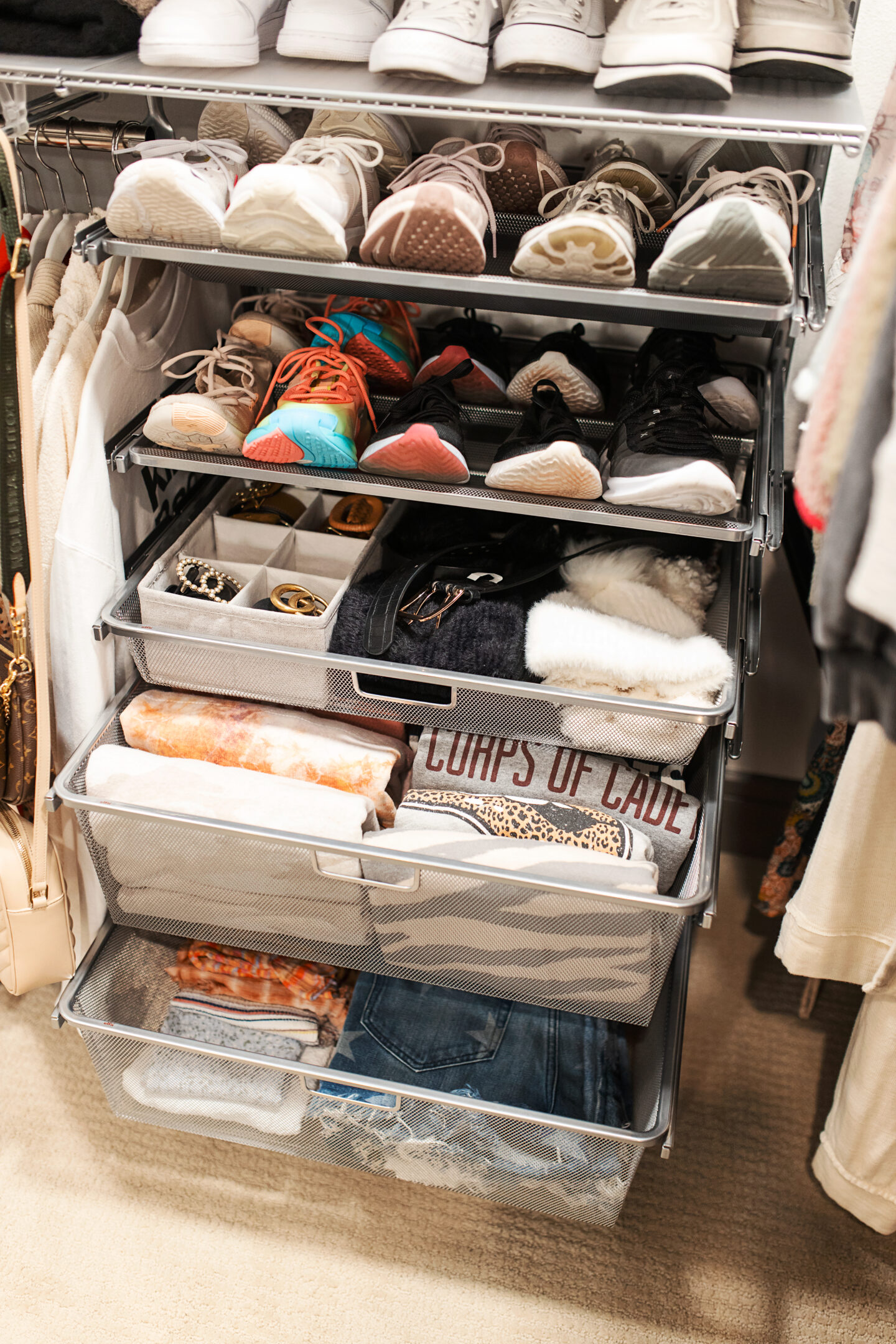 THE DRESSER
We went through the same method for the dresser: empty > sort > donate > stage. NEAT Method taught me how to fold like a pro and, while it's a little more time consuming, the extra couple of minutes it takes to maintain the system is totally worth it. I can fit so much more in my dresser now and can actually see every pair of my leggings.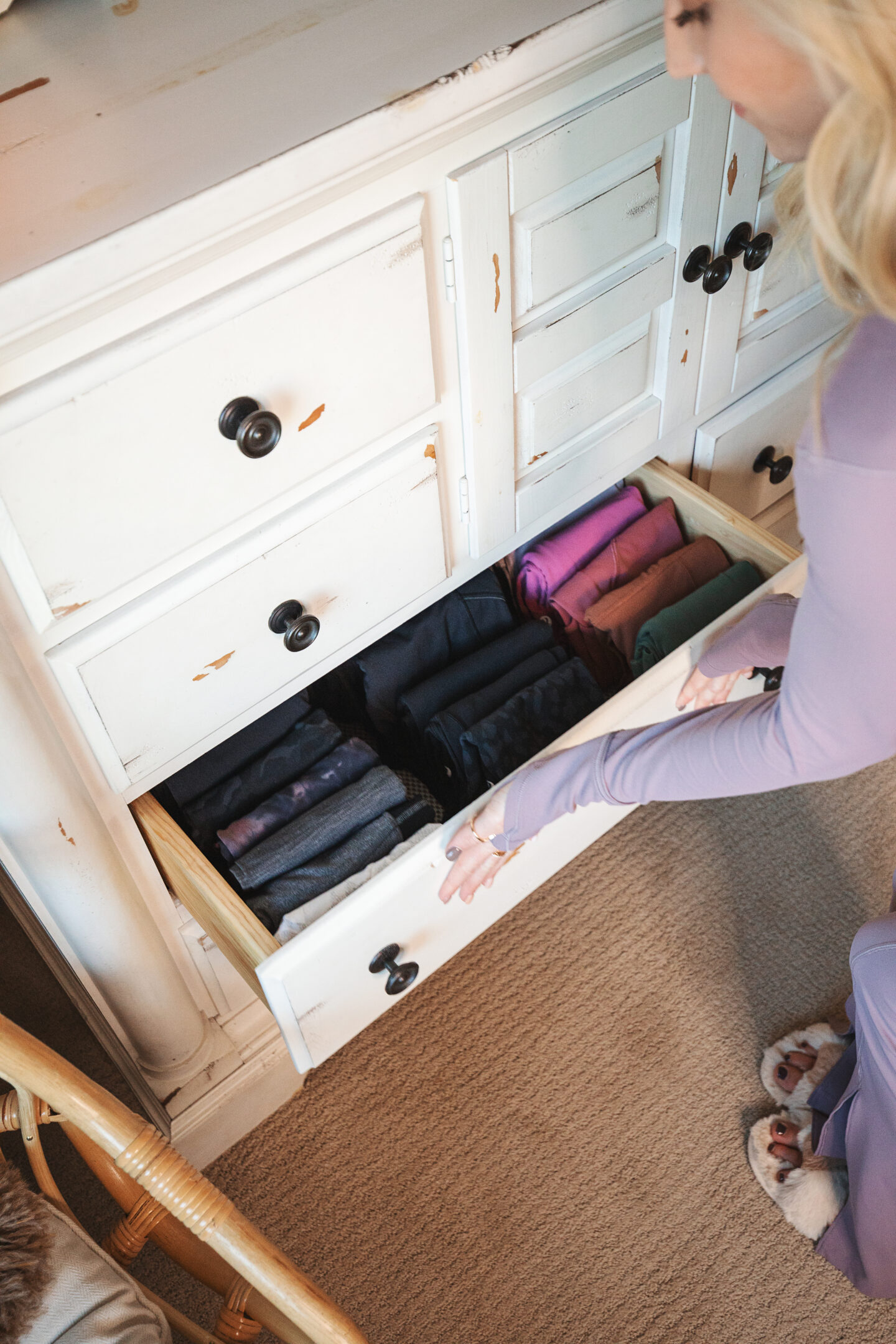 THE BATHROOM
My OCD is extremely satisfied looking at these photos. NEAT Method made my beauty product organization dreams come true. Every product has a designated home, down to the last pony tail, and they were even able to create a "backstock" section under the sink using clear stackable storage bins, so I even have a little room for extra/new products(!). For small spaces, specific labels help keep everything in its place! They organized my makeup/skincare products + hair accessories with clear drawer organizers and used drawer dividers to separate different product categories in my deep bathroom drawers. This method allows me to maximize the storage space.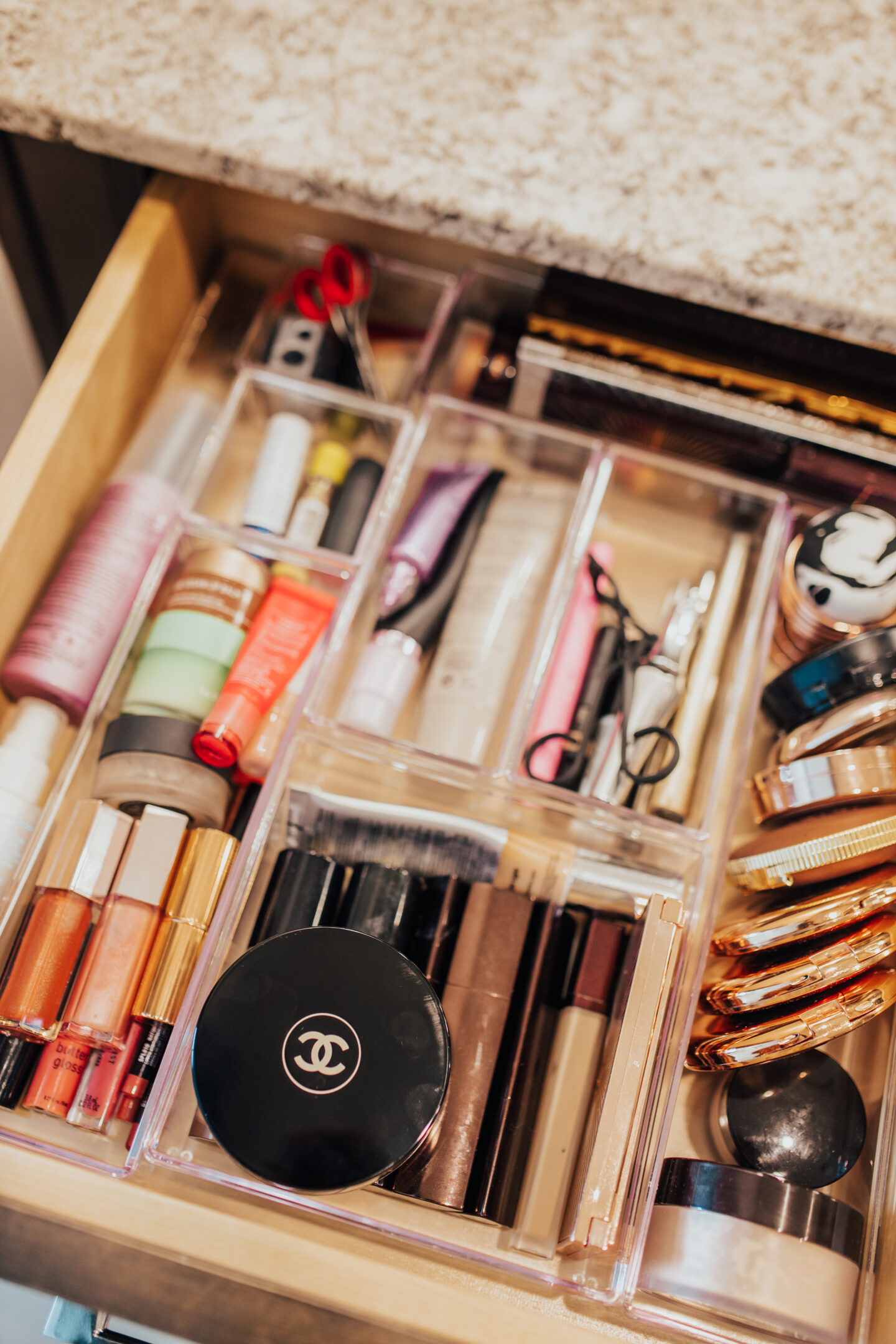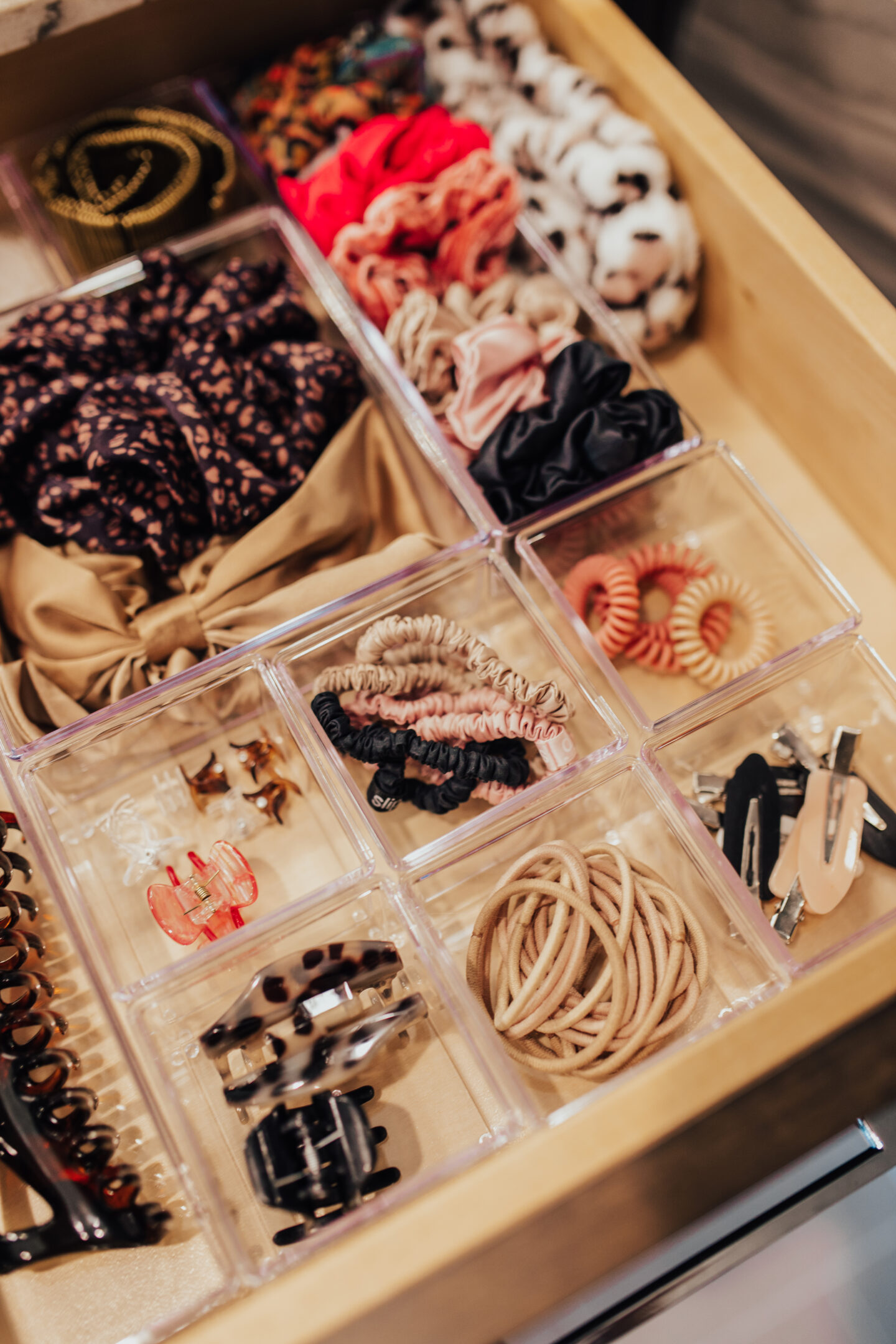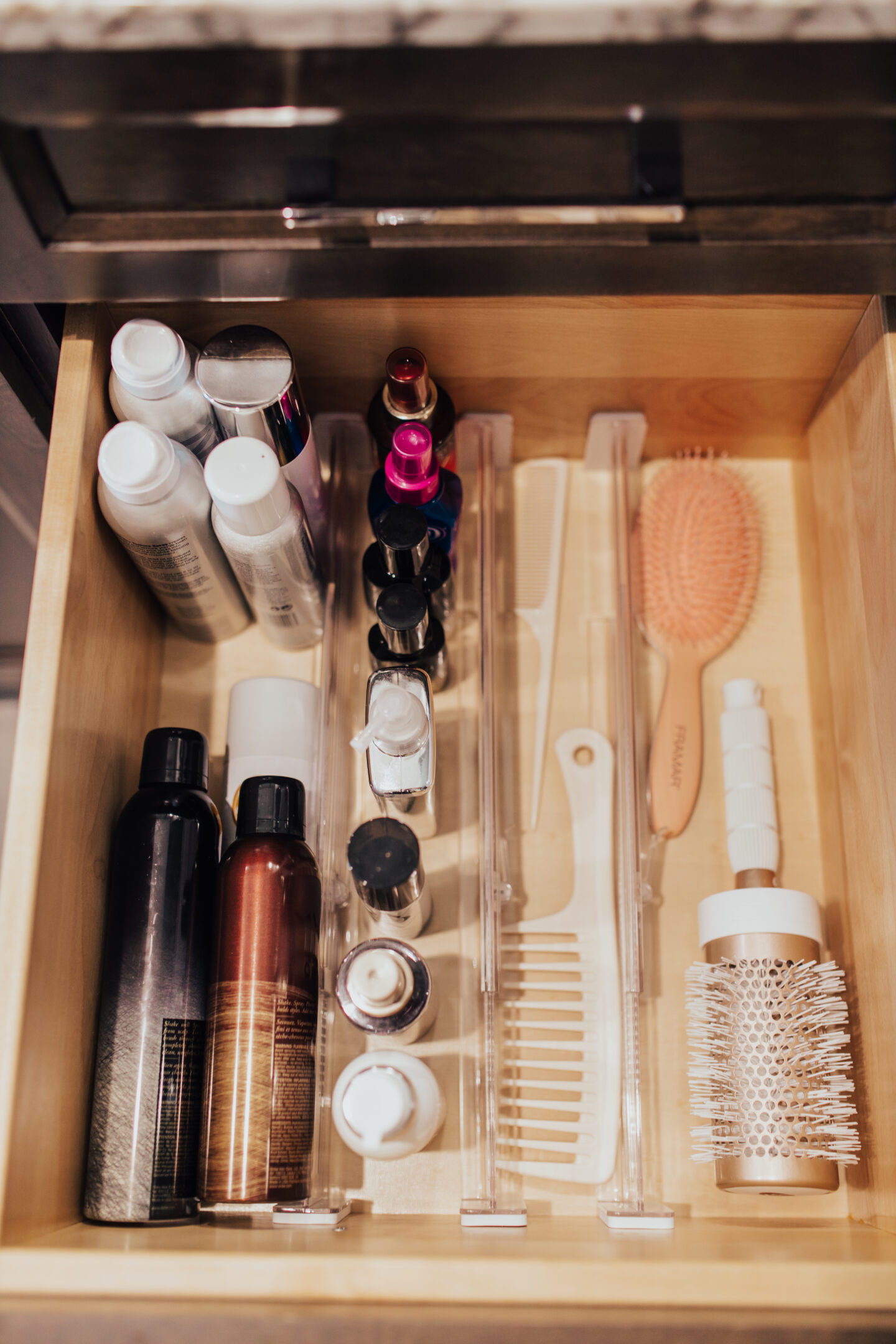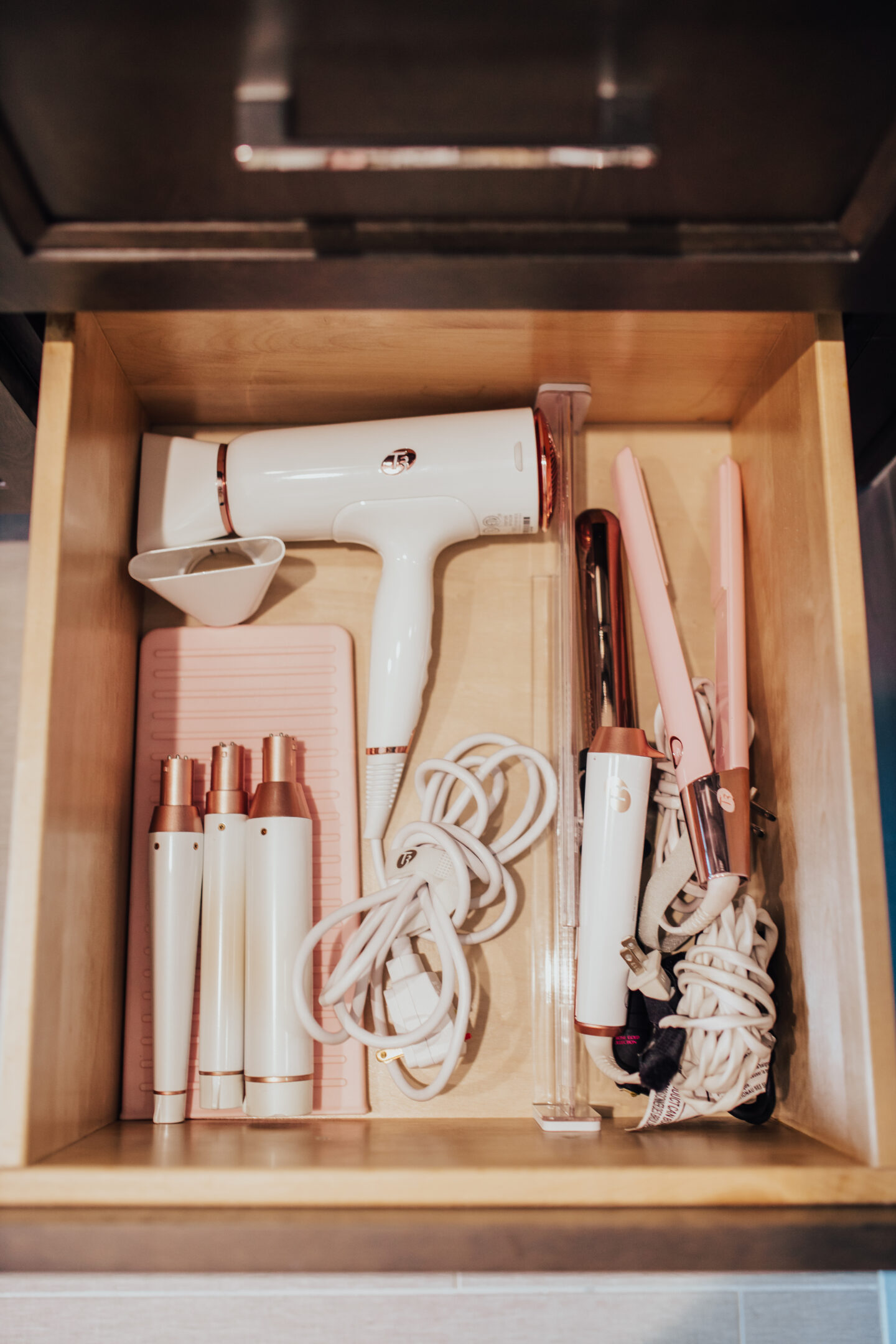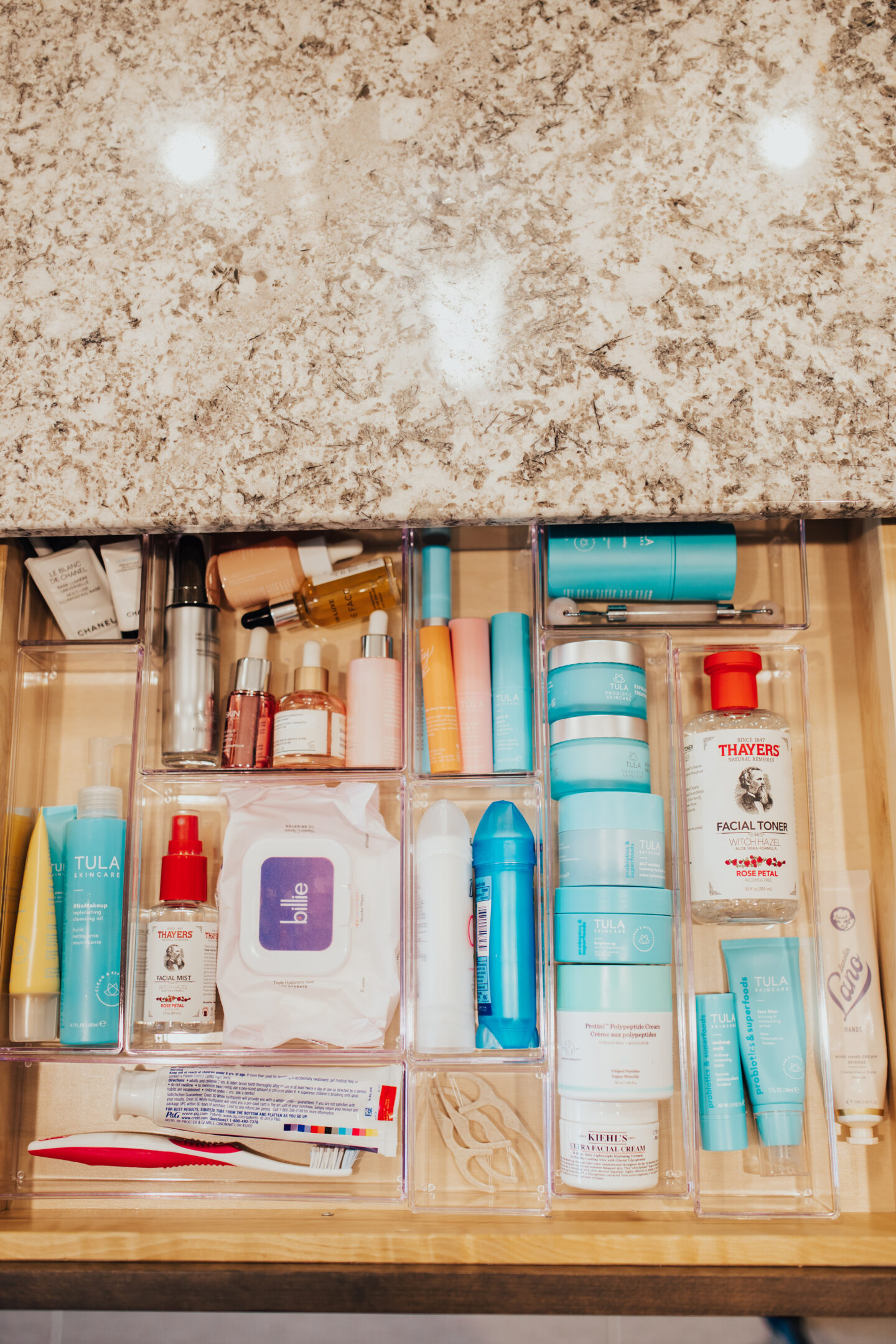 ---
After living with my custom closet and these storage solutions for about a month now, I have to say what I'm most impressed with is the ability to maintain the organization methods that NEAT Method helped me put in place. They are truly pro's at what they do and I couldn't recommend them enough. NEAT Method has 75 locations all around the country + Canada (click here to find the team nearest you). If you're local to the DFW area, make sure to mention I sent ya when you contact Dallas Highland Park Neat Method! If you're not local to the area, I'm sure there's a team near you that can turn your organization dreams into reality. xx
FOLLOW @dallashighlandparkneat & @neatmethod.
---
PRODUCTS USED:
– Elfa Closet System (custom design by NEAT Method)
– SHOE STORAGE: Amazon 3-Tier Shoe Utility Rack + Under Bed Shoe Organizer
– BELT ORGANIZATION: 8-Section Organizer
– BATHROOM DRAWERS: Clear Drawer Organizers + Drawer Dividers
– BATHROOM CABINETS (under sink organization): Clear Stackable Storage Bins
– JEWELRY STORAGE: Amazon Jewelry Box + Anti-Tarnish Stackable Jewelry Trays
---
MORE ORGANIZATION PRODUCTS I LOVE: